Dansonu Marie (Dansonu マリー, Dansonu marī), also known as Dance Marie (ダンスマリー, Dansumarī) is a character in Keroro Gunso.
Character
Edit
Dasonu Marie is the younger sister of Dasonu Maso. She wants to become a better comedian like her brother with the help of the Keroro Platoon.
Appearance
Edit
She has long blonde hair with a white band around her head. She has an afro when Dasonu Maso touches her. She wears pink shorts with a white belt that has a big orange heart-shaped belt buckle with a yellow star in it, a white shirt that says "I ♥", pink gloves, and elevator boots (both with white frills hanging off). She wears a peculiar red eye wear with a pink border along with pink, heart-shaped earrings.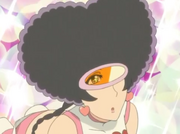 Relationships
Edit
Characters in Keroro Gunso
 

 

Keronians
Keron Army
Artificial Keronians

 

 

Keroro Land
Characters

 

Volumes 1 - 10

Volume 1
Volume 2
Volume 3
Volume 4
Volume 5
Volume 6
Volume 7
Volume 8
Volume 9
Volume 10

 

Volumes 11 - 20

Volume 11
Volume 12
Volume 13
Volume 14
Volume 15
Volume 16
Volume 17
Volume 18
Volume 19
Volume 20

 

Volumes 21 - 30

Volume 21
Volume 22
Volume 23
Volume 24
Volume 25
Volume 26
Volume 27
Volume 28
Volume 29
Volume 30

 

Volume 31 - 40

Volume 31
Volume 32
Volume 33
Volume 34
Volume 35
Volume 37
Volume 38
Volume 39
Volume 40

Characters → Keronians → Keroro Land

Characters → Keronians
Pekoponians and aliens living among them
 

Kissho Academy
1-B (Fuyuki's Classmates)
2-A (Natsumi's Classmates)
2-B
Manga club
NW club / KGS
Other students
Faculty
 

Animals and Plants

General
Super Insects
Yokai and Cryptids
This article about a character is a stub. You can help Keroro Wiki by expanding it.
Community content is available under
CC-BY-SA
unless otherwise noted.