Welcome!
Welcome to the Keroro Wiki, a wiki on the Keroro series by Mine Yoshizaki. Led by Sargeant Keroro, a platoon of five Keronians try to invade Pekopon (Earth!). However, the platoon of five ends up making friends in Inner Tokyo, and their plans of invasion become stuck up indefinitely.
Serialization of the manga started in 1999, running in Shonen Ace, and it still continues today up to a total of 31 volumes. In 2004, the manga was turned into the anime Keroro Gunso, which itself sprung out seven movies. In 2014, a new Flash Animation version of Keroro was released. Find the official website at keroro.com
Meet the Platoon!
Spotlight
| Article Spotlight | Media Spotlight |
| --- | --- |
| Angol Mois (アンゴル=モア) (Angoru Moa, known as Angol Moa in the manga) is a major character in Keroro Gunso who is portrayed as the "King of Terror". | Afro Gunsou (アフロ軍曹) (Afuro Gunsou) (literally, Afro Sargeant), by DANCE☆MAN, is the 1st Ending theme of the anime Keroro Gunso. It is used from episode 1 to 18, and again from episodes 27 to 40. |
【Keroro Gunso ケロロ軍曹】[Meet the Sergeant!] (Episode 1)
Ways to help!
Not sure where to start?

Find out more about the community by visiting some of the pages on our Wiki. Use the navigation bar on the top of the page, or, go to a random page!
Start watching some Episodes and engage in conversation in our Forums page.
If you are new to Wikia, check out the tutorial.
Adding content
Visit our Community Portal. This is the starting point for all editors of this Wiki. There, you will find information about new pages, find ways to help clean up the site, and expand our growing range of articles. Meet the Administration team here.
Official Sites
Notice from Keron HQ: 2021!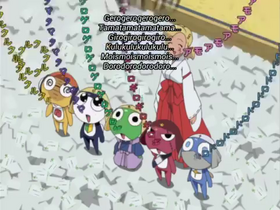 Happy May! The Keroro Wiki is spotlighted in the Animanga Footer! Let's celebrate with a resonance!
Affiliated Communities
Spring Season 2021 Anime Wikis

TV Anime

TV (Multiseason)

ONA

OVA

Specials

Film
Community content is available under
CC-BY-SA
unless otherwise noted.