Seven of Seven (七人のナナ, Shichinin no Nana) is an anime series created by Yasuhiro Imagawa and produced by A.C.G.T.
In other media
Edit
Keroro Gunso
Keroro Gunso's mangaka
,
Mine Yoshizaki
, created the character concept designs for
Seven of Seven
. As such, various crossovers exist between the series. The character of
Mutsumi Hojo
, who appears as "Examinee 623" and the host of his own radio program in
7 of 7
, is a major character in
Keroro Gunso
.
Melody Honey
, a minor character in Keroro Gunso, appears in three episodes and has her background explored in this series.
Omiyo
, the Hinata residence's ghost, makes a brief participation in one episode, although a different legend is associated with her in this anime.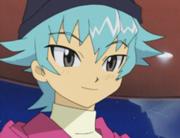 In addition, episode 89 of Keroro Gunso, Giroro: The Man with Seven Faces de arimasu, features a plot that splits Corporal Giroro into seven personalities, most of whom resemble Nana's split personalities. A segment of the episode featuring Mutsumi takes place at the cherry tree seen frequently in Seven of Seven.
Later on, the Keroro manga would feature a group of seven female ninjas called "Nanatsu", whose appearance, personality and even the name of one of their members, who introduces herself as "Nana" to Natsumi, was identical to the seven Nanas from Seven of Seven.
Community content is available under
CC-BY-SA
unless otherwise noted.