In 2006, before FUNimation got their license to Sgt. Frog, ADV was supposed to do it but they lost the license.
Back in 2006, ADV almost released their English-language dub of Sgt. Frog, even almost getting the show onto Nickelodeon. However, they lost the license, and couldn't get it on DVD. All that's left is the trailer and theme song; with Vic Mignonga voicing Keroro.
Background
Edit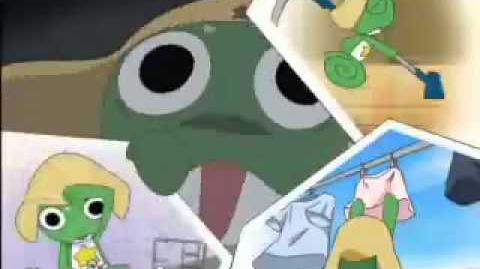 In 2006 ADV acquired the rights to all the Sgt. Frog merchandise, excluding the manga which was already being distributed through TokyoPop.
[1]
ADV had the license to the anime, and thus they marketed it out on their website. They made three different "dubs" of the pilot episode: one was an otaku/fan pilot, the next was a mass-market pilot, and the last was a kid-oriented pilot. They pitched the pilots to
Cartoon Network
and
Nickelodeon
. Cartoon Network liked the mass-marketed pilot, while Nickelodeon likes the kid-orienteated one. Nickelodeon stated that they would air the show if ADV got the marketing rights. It was once confirmed that the dub would be released out on DVD in Feburary, but the date was later moved to 2007. Information about the show seemed to stop, until in 2008
Funimation
was placed in charge of the dub, due to ADV having money issues. All evidence of the show has been lost, save for the trailer and the pilot theme's opening.
External Links
Edit
References
Edit
Community content is available under
CC-BY-SA
unless otherwise noted.